Lagarde seeks second term as head of the IMF
Comments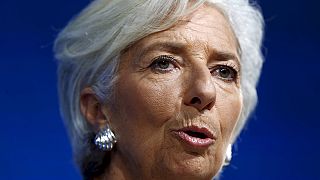 Head of the International Monetary Fund, Christine Lagarde, has announced she will run for a second term as managing director of the financial institution.
#UPDATE Christine Lagarde to bid for second term as IMF chief https://t.co/vxG0eRBwZ4pic.twitter.com/fpHe7wxPAe

—

AFP

news agency (@AFP) January 22, 2016
Her term formally ends in July and the IMF has begun accepting nominations to see who will lead the crisis lender over the next five years.
Speaking at Davos Lagarde announced her intention to stand:
"Yes I am candidate to a second mandate. I was honoured to receive from the start of the process the backing of France, Britain, Germany, China, Korea, Mexico."
Earlier in the week British Chancellor of the Exchequer George Osborne tweeted his support for Lagarde.
Delighted to nominate Lagarde</a> for new term as head of IMF. An outstanding leader with vision &acumen to steer global economy in years ahead</p>&mdash; George Osborne (George_Osborne) January 21, 2016
However, it is not all plain sailing she could stand trial in France for her alleged role in a banking scandal before she took up the reins of the IMF.
Simon French is the Chief Economist at Panmore Gordon and believes Lagarde will survive and prosper:"Well it's a worry isn't it. But there is an ability for politicians, particularly with a French background to navigate public office while also dealing with challenges at home."
Lagarde guided the IMF as the eurozone was plunged into crisis and her cool head has won her many admirers in the financial world.
Christine Lagarde</a>, head of <a href="https://twitter.com/hashtag/IMF?src=hash">#IMF</a>, visiting <a href="https://twitter.com/hashtag/Cameroon?src=hash">#Cameroon</a>. What a strange picture... <a href="https://t.co/dovLU3Ch2R">pic.twitter.com/dovLU3Ch2R</a></p>&mdash; Pierre Boisselet (PierreBoisselet) January 12, 2016