Hundreds pay tribute to slain Turkish-Armenian journalist Hrant Dink
Comments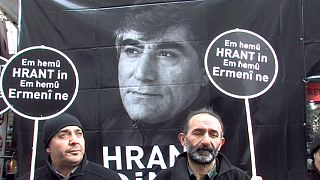 Hundreds marched in Istanbul on Tuesday (January 19) in tribute to Hrant Dink, a Turkish-Armenian journalist shot dead outside his newspaper's office nine years ago.
He called for peace. He was a bridge between the Turkish and Armenian peoples
Dink was an advocate for reconciliation between Turks and Armenians, and he ran a bilingual weekly, Agos, in that spirit.
"Hrant Dink was a very important person for Turkey. He called for peace. He was a bridge between the Turkish and Armenian peoples. So it's very important to commemorate him, " said Burhan Kayaoglu, a tourism worker.
Among the protesters was Selahattin Demirtas, Co-Chair of the pro-Kurdish Peoples' Democratic Party (HDP).
#Turkey Commemoration ceremony for slain #journalist Hrant Dink, in Istanbul. #AFP Photo by ozannkosee</a> <a href="https://t.co/GoGNPdigSz">pic.twitter.com/GoGNPdigSz</a></p>&mdash; Aurelia BAILLY (AureliaBAILLY) January 19, 2016
Threat neglected
Turkish nationalists hated Dink for labeling as a "genocide" the mass killings of Armenians during World War One. A teenage nationalist was in fact convicted and jailed over Dink's murder in 2011, but the masterminds behind his slaying remain at large.
National and European judges have slammed Turkey's police for neglecting serious threats against the journalist, and 25 high-ranking police officers now face trial.
"A relatively serious inquiry started in 2014, taking into account the European Court of Human Rights' ruling," Hakan Bakircioglu, Dink's lawyer, told euronews.
"In this context, we have made progress. But it all comes very late. We reached that point after nine years… Still, the latest indictments are important," he said.