With just 18 days to go until the Iowa caucuses, the leading US Republican candidates for president candidates faced off in their sixth debate of the campaign.
After weeks of increasingly hostile jabs that have been thrown on the campaign trail and in TV ads, the candidates had a chance to deliver their hits in person – and they did, big time!
The first debate of the year revealed a growing combativeness among the candidates, coupled with a much more aggressive rhetoric.
Front runner Donald Trump clashed repeatedly with conservative Texas Senator Ted Cruz over Cruz' birthplace in Canada and Trump's "ultraliberal" (Cruz) home town of New York City.
Trump also had several run-ins with former Florida Governor Jeb Bush, Trump's favourite target ("low energy").
Cruz and Florida Senator Marco Rubio sparred over their respective tax plans and immigration positions, and New Jersey Governor Chris Christie exchanged vicious attacks with Rubio over practically everything.
But Trump and Cruz were at center stage after days of increased sparring on the campaign trail. They are as close as they've been in competing for the lead in Iowa, according to polls, and Cruz is in second place in several other states.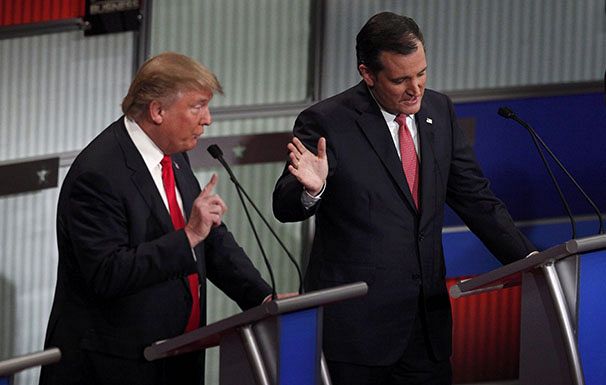 It took only a few minutes into the debate until Trump and Cruz locked horns. Cruz, responding to Trump's recent suggestions that Cruz's Canadian birth could disqualify him, said the developer seemed to be "dismayed" at recent shifts in polling.
During the exchange about Cruz's citizenship, Trump told Cruz that "there's a big question mark on your head, and you can't do that to the party."
"Who the hell knows if you can run for office?" Trump added.
The exchange took several minutes, and also demonstrated the danger – even for a skillful debater like Cruz – of tangling with Trump, a trained master of reality TV.
It began with a question for Cruz, who was born in Canada to an American mother, about whether he fit the Constitution's definition of a "natural born" American citizen, and was eligible to run for president. He said that Trump had dismissed the idea earlier in the race but now was suddenly concerned.
"The Constitution hasn't changed, but the poll numbers have," Cruz said. Trump responded first by citing polls showing him ahead, earning a smattering of boos.
When Trump was asked why he had only raised the issue of Cruz' birth recently, he replied "because now he's doing a little bit better."
That exchange was followed by another tense moment when Trump rebuked rival Cruz for talking negatively about "New York values," offering a tribute to the city's response to the September 11, 2001, terrorist attacks.
"When the World Trade Center came down, I saw something that no place on Earth could have handled more beautifully, more humanely than New York," Trump said.
He continued: "The people in New York fought and fought and fought, and we saw more death, and even the smell of death. Nobody understood it. And it was with us for months, the smell in the air."
That followed an attack by Cruz in which he said that "New York values" were socially liberal, and tied to money and the media. He said that Trump was representative of those values, and therefore not aligned with the conservative values of early-voting states such as South Carolina, where the debate was held.
"I have to tell you, that was a very insulting statement that Ted made," Trump said.
It was the second time in this debate that Cruz and Trump – who had once had an unofficial alliance, but now are rivals – had tangled, with Trump having the last word.
Over the course of the two-hour long debate Trump became the commanding figure on the stage, not backing down from his controversial positions he expressed earlier in the campaign.
He has said that he wants a temporary ban on all Muslim foreigners seeking to enter the US, and a wall to keep out undocumented immigrants along the border with Mexico.
Trump did not appear to have changed that tactic: "We can't let all these people come into our country and break our borders. We can't do it."
When Bush criticized Trump for his comments calling them "unhinged", the son and brother of US president received a verbal spanking from Trump: "The last thing the country needs is a weak president."