BHP Billiton writes down US shale assets of 7.2 billion dollars
Comments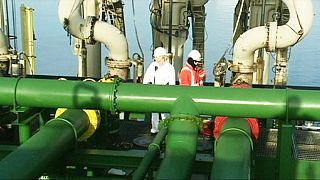 BHP Billiton has written down the value of its US shale assets by 7.2 billion dollars – around seven billion euros due to the dramatic fall in oil prices.
The company saw a slump in earnings last year as iron ore, coal, copper prices all plummeted.
It has cut operating costs and capital spending reducing the number of shale oil rigs from 26 a year ago to five now.
"Certainly looking at the break-even costs of some of the major oil producing countries I think we could very much expect to see other corporate entities looking at write downs as a way of breaking and holding through this current meltdown that we are seeing in the oil price sector," opined Brenda Kelly Head Market Analyst London Capital Group.
That meltdown has slowly seeped through many quarters of the industry. Future projects with an estimated worth of 380 billion dollars have been postponed or cancelled according to energy consultancy Wood McKenzie. That includes 170 billion dollars of projects planned for the next four years.
Jobs have been cut back across the world and earlier this week UK oil giant BP said it will cut 4,000 positions globally, 600 of which will come from its North Sea operations.