Pain at the petrol pumps for motorists despite oil prices tumbling
Comments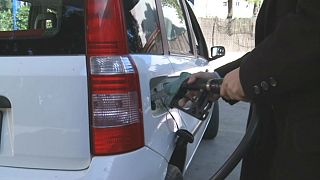 The theory of cheap oil for the motorist. How does it work – or does it? Tumbling prices and a global glut but not at the pumps. Percentage price drops have not been matched on the forecourts leaving individuals and businesses reaping no big benefit from the oil market lows.
"I drive many kilometres each day to show clients houses. You understand the more expensive petrol gets, the heavier my operating costs grow. I pay out more than 350 euros per month for petrol and though I see that oil prices are getting lower, petrol is not," explained Giannis Rebithis who is a Greek estate agent.
Petrol prices do react to the oil market. Oil lost 70 percent of its value in the last year and a half. For the same period the fall in petrol prices in Greece for example has been just 20 percent.
Euronews correspondent in Athens explained the breakdown of costs.
"For every 100 euros a Greek driver pays at a petrol station, just 33 euros go to the oil industry: to the country and company of production, the refinery and distribution companies. The remaining 67 euros go to the state. Fuel taxes in Greece are high, but not the highest in Europe."
If you are driving in the EU then the average tax you will pay on a litre is 66 percent.
Topping the tax league is the UK at 72 percent. It is ready revenue for government coffers and easy, say analysts to impose and collect as Costis Stambolis, Executive Director, Institute of Energy for South East Europe pointed out.
"Traditionally, for many years, taxes have been imposed in the European petrol industry because it is easy for the governments to get income. Bear in mind that across the Atlantic, in USA, prices at the pump for the consumer are one third."
Will the tax level change in the EU? A Commission official would only say it will present its Winter 2016 Forecast in early February, which will reflect the latest energy developments.