Portugal's presidential candidates launch campaigning
Comments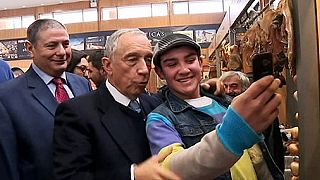 A record ten candidates have officially launched their campaigning to become president of Portugal in elections on 24th January. They run as independents but the political parties can issue their recommendations.
Among the frontrunners, the polls favour Marcelo Rebelo de Sousa to win, possibly even in the first round. He enjoys the support of the centre-right Social Democrat Party. Former law professor de Sousa, 67, led the PSD in the nineties, and has been a popular political commentator on television for 15 years.
António Sampaio da Nóvoa is tipped as certain to make it to a second round, if there is one, on 14th February. He has the support of the left generally and of three former presidents, two of them Socialists. But the 60 year-old former rector of the University of Lisbon is credited with just under 17% of the Portuguese votes.
Maria de Belém Roseira, 66, is also seeking votes from the left. But the Socialist party has not given her its explicit support. Partly this is because Prime Minister Antonia Costa encouraged NO-vwa to enter the running, and partly also since Belayng is a more conservative-leaning type of socialist.
Marisa Matias is the youngest of the candidates, 39, a sociologist with the support of the Left Block which is part of the alliance supporting the Socialist government under Costa. The former euro-MP says she is pro-Europe but against the weight of Berlin and Frankfurt within the EU.
Edgar Silva, 53, a former priest, is also competing for left votes, with the Communists' support. This party is also in the alliance keeping a Socialist government in Lisbon.
The next president will succeed the conservative Anibal Cavaco Silva. In Portugal, the office of president holds significant powers, such as to be able to veto laws. And yet, the outgoing head of state was obliged to ask Antonio Costa to form a government with the combined pull of the left wing, when the centre-right PSD won the most votes in October's general election, but not enough to govern.