Holiday hangover hits rouble as speculators claw at Russia
Comments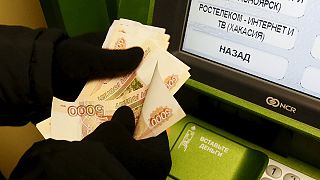 The Russian rouble tanked again on Monday as the week opened with the Russian currency under severe market pressure.
A 10-day holiday period in Russia has come to an end and traders are facing a public storm of price pressures and falling revenues from Russia's main export, oil.
Russia's budget, set at 50 dollar-per-barrel prices, is broken when prices are barely above 30 dollars. Ordinary people are starting to feel it in their pockets.
"We live outside the city and our pensions are very low. How do we survive on 8,000 rubles, about 106 US dollars a month? Medicine has become more expensive along with food and housing expenses. So it's hard," said one elderly Moscow pensioner.
Some forecast a stabilisation in oil prices this year, although the unknown factor is how quickly Iranian oil will return to the market with the end of sanctions, and in what quantities.
"We do think that if oil prices stay where they are or fall to an average of about thirty dollars a barrel this year, then we would expect the Russian economy to be in a considerable recession for the second year running," says Merrill Lynch's Chief CIS and Russia economist Vladimir Osakovskiy.
At current prices Russia faces a more than 5% budget deficit this year, but some forecasts say the price could go as low as 20 dollars. It means that the cash pile Moscow salted away during 10 years of high oil prices is all but gone.