Lottery rollovers: a win in the UK but more suspense for the US
Comments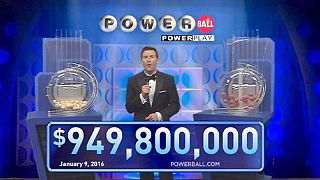 900 million

USD

draw this week
Ticket sales through the roof
UK jackpot won on Saturday
The news
Lottery officials in the US say no one has won Saturday's record 900 million dollar jackpot.
UPDATE: No winner of record US$900 million #Powerball jackpot, next draw on Wednesday https://t.co/RuraFfThSPpic.twitter.com/1oO4EQwrEM

— ST Foreign Desk (@STForeignDesk) January 10, 2016
Powerball is played in 44 states, Washington and two US territories.
The prize has climbed steadily for weeks after repeated draws produced no big winners.
In line to get lottery ticket. :-) Are you trying your luck at the largest jackpot in US history? #900_millionpic.twitter.com/yfSDESz7do

— Bryan Bennett (@WFLABryan) January 10, 2016
Millions of Americans have bought tickets for the draw.
Sales almost tripled in some states.
California, for example, normally has Powerball sales of $1 million per day.
However, on Saturday, sales were $2.8 million an hour according to California Lottery spokesman Mike Bond.
The prize fund rolls over to Wednesday when it will reach 1.3 billion dollars (1.19 billion euros)
The 10 highest US lottery jackpots: https://t.co/Up76SAhjIV

— The Associated Press (@AP) January 10, 2016
What they are saying
US jackpot lottery climbs to record $900 million
https://t.co/77VXjHveqmpic.twitter.com/GqMs3xbIqD

—

DAILY

SABAH

(@DailySabah) January 9, 2016
Many have already spent the money before they have even won it.
"A nice vacation. Open up another business. That kind of thing. And charity, let's not forget that." – a man queuing in California.
"Well, I have seven kids, so college is number one. Then put a lot of it away, give some to charity." – a woman queuing in California.
The UK
Two winners share record 66 million pound UK lottery jackpot https://t.co/pz2jVgFjP8 via ReutersUK</a></p>&mdash; Liz V (ShoreEJV) January 10, 2016
In contrast to the US, Britain's biggest-ever lottery jackpot was won on Saturday night.
TWO ticket holders each won £33 million in last night's #Lotto – were you one of them? Head this way to find out: https://t.co/MHbne65vFd

— Lottery UK (@lottery_uk) January 10, 2016
Organisers Camelot say two ticket holders shared the 66 million pound (88 milion euro) prize.
The draw, comes after 14 consecutive rollovers.
The previous biggest British national lottery jackpot win was 22.6 million pounds more than 20 years ago.
Did you know?
The UK launched its national lottery in 1994
Charities are also winners – 34 million pounds is raised via ticket sales each week
Winnings are tax-free
The previous biggest jackpot win was 22.6 million UK pounds more than 20 years ago
A Scottish couple collected 161 million pounds in the pan-European "Euromillions" draw in 2011.