Kosovo anti-government rally turns violent
Comments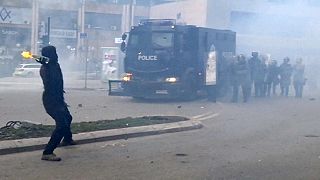 Crowds gathered in Kosovo to rally against an EU-brokered deal to give the country's Serb minority greater local government powers.
Opposition leaders say the government should resign over the agreement which they say is unconstitutional.
After the rally opposition supporters pelted police with stones and petrol bombed part of a government building.
Many Kosovars say the deal with Serbia threatens Kosovo's hard won sovereignty, which is recognised by more than a hundred countries including major Western powers.
Its former ruler Serbia has refused to recognise Kosovo as independent.
Both are under pressure from the EU to improve relations to progress towards membership of the bloc.
Protesters set Kosovo govt HQ on fire over deal with Serbia https://t.co/5iWitYD2bvpic.twitter.com/JdEnBbH5Bg

— RT (@RT_com) January 9, 2016
Declaration of independence
Kosovo, which is majority Albanian, declared independence from Serbia with Western support in 2008, almost a decade after NATO air strikes drove out Serbian security forces accused of killing and expelling civilians from the ethnic Albanian majority during a counter-insurgency war.
Protests against the deal have frequently turned violent over the past year and opposition MPs have repeatedly disrupted the work of parliament by releasing smoke canisters in the chamber.
Opposition lawmakers have said that no session will be held until the government renounces the deal with Serbia that gives greater rights to Serbs living in northern Kosovo.