Egyptian parliament meets for the first time in three years
Comments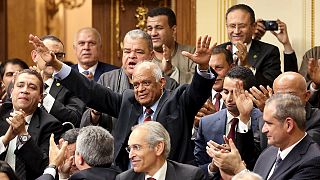 The Egyptian parliament met on Sunday for the first time in three years as President Abdel Fattah al-Sisi seeks approval for up to 300 laws issued by decree while the assembly was suspended.
The country's two previous executives were dissolved – the first in February 2011 and the second in June 2012.
Then in 2013 former president Mohammed Morsi of the Muslim Brotherhood was ousted by the military after mass protests.
All that fallout came from the popular uprising that resulted in the overthrow of former autocrat Hosni Mubarak's 30-year rule.
Egypt's politicians now have a lot of catching up to do.
"Our priority now is to find ways to attract investment and reduce the government deficit, at the same time creating new laws commensurate with the 2014 Constitution," said MP Talat Khalil Omar.
"Without social justice the country will not witness any development," said another MP, Khaled Yousef.
"Especially as around 50 million Egyptian citizens are living in poverty. They've been deprived of their rights over the past 30 years, so our priority now is social justice."
The opening session on Sunday lasted for seven hours as over 500 new MP's took the national oath and elected a speaker and two deputies.
The new speaker is Ali Abdelaal, a French-educated lawyer who helped draft the constitution and election law. He is a member of the "Support Egypt" coalition, an alliance of over 400 MPs loyal to Sisi.
Critics of the parliament consider that it lacks meaningful opposition. They fear it will have little effect in mitigating the Sisi regime.
Parliament now has just 15 days to ratify hundreds of laws.