Mein Kampf returns: read-between-the-lines version
Comments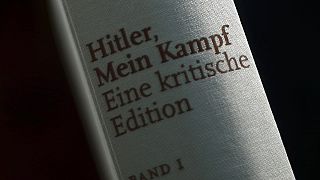 Hitler's opus 'Mein Kampf' is back in stores in Germany now for the first time since 1945, one of history's most notorious works, republished with a pedagogical aim.
Only this time the text comes accompanied by more than 3,000 notes by scholars with the Institute of Contemporary History in Munich (IFZ).
The copyright expired at the end of last year; the Allies occupying Germany gave the rights to the state of Bavaria 70 years ago.
The head of the team that worked on the annotations said there was no question of re-releasing the book without them.
According to Professor Andreas Wirsching, IFZ director: "There is broad consensus that it would be irresponsible to let this convoluted product of a vagabond lacking humanity into the public domain without comment, without countering [the content]. A critical reference edition puts both the text and its author into context."
Hitler produced his manifesto between 1924 and 1926, first while imprisoned after the failed Munich putsch, completing it after his ascendance to rule Germany, in his home in the Bavarian Alps. It became the manual for his National Socialist Party, the foundation for the Nazis' whole anti-Jew ideology and militaristic political hate programme.
The head of Germany's Teacher's Association, Josef Kraus, says that getting Mein Kampf out into the open can "make an important contribution to inoculating young people against political extremism."
"I find it's right to publish an edition with scientific comments now, to destroy a shadowy myth. This is educational, to make clear to young people — not 12 or 13-year-olds but 16 to 18-year-olds — that such an atrocious pamphlet can ultimately lead to a global catastrophe."
As the Times of Israel has pointed out, 'German justice officials say anyone who publishes Mein Kampf without proper commentary will be prosecuted for inciting racial hatred.'
Mein Kampf, which means 'My Struggle', is abundantly available in Hebrew and other translations, notably in Arab countries and on the Internet.