Gas leak near LA costing millions to put right
Comments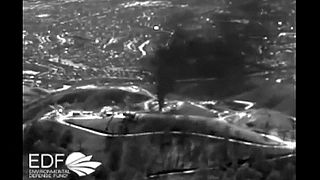 A huge, ongoing natural gas leak in Porter Ranch, California, has pushed thousands to leave their homes and has cost SoCal Gas at least 50 million dollars, the company says.
It claims there is no threat to public safety. However, the leak has prompted local authorities to declare a state of emergency.
Local resident Matt Pakucko was worried about potential long-term effects.
"They keep saying, from the beginning and even now, 'there's no long-term health effects…' We've scoured the world to find some evidence, some study, some medical proof that there's no long-term health effects from breathing this stuff. That does not exist on planet Earth," he said.
Local residents say the stench is causing sickness and some people have been admitted to hospital.
SoCal has apologised, but says the operation to stop the leak could take weeks.
Company spokesman, Mike Mizrahi, told the media he wouldn't label the incident an environmental catastrophe, adding:
"When you have a release of a greenhouse gas up into the environment, there's going to be some impact. We don't know exactly what that impact is, because we don't really know – and won't know until we stop this leak – how much natural gas is actually being released into the environment."
Methane is among the gases seeping out since October, 2015. The leak is believed to have been caused by a broken injection-well pipe, over a hundred metres below the surface.