Fire breaks out at Rio's Olympic Park
Comments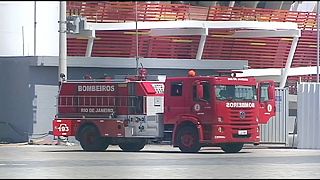 A small fire broke out near the tennis venue inside Rio de Janeiro's Olympic Park on Thursday.
The blaze inside a shipping container which held construction supplies came just a few hours after a protest by former site workers who claim they have not been paid their final month's salary since being laid off in December.
Authorities said nobody was injured in the incident and none of the Olympic facilities were damaged.
According to reports police detained four people in connection with the fire.