European economies face harsh headwinds from China
Comments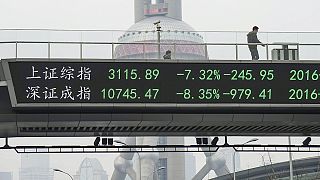 Headwinds from China again for European economies. As China's financial markets remain relatively closed exposure for banks is limited, but trading is a different matter.
Exporters to the country could be hit hard as China is a key buyer of industrial commodities including oil, copper and iron ore.
The country has become one of the European Union's external trading partners in goods and it ranks second overall in terms of total trade. Germany is one of those states which is exposed.
"China is important for the world economy, definitely and once right now we see that China is losing momentum. That's especially negative for Germany, exports and imports to China," explained Robert Halver Head of capital market analysis at Baader Bank.
In 2014 Germany topped the European league table of exports to China which were valued at around 100 billion euros.
That compares to France where the trade was worth 20 billion euros. It was 14 billion for Italy and almost 5.5 billion for Spain.