Scuffles in Cologne as rival groups hold demonstrations over immigration
Comments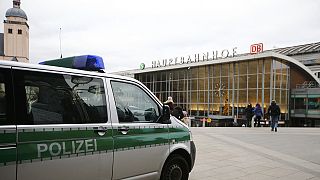 Scuffles have broken out between far-right activists and anti-fascist protesters in the German city of Cologne, with police attempting to keep them apart.
The right-wing groups have condemned the government's welcoming of refugees after the city's police chief told the media that people of Arab or North African origin were behind New Year's Eve attacks.
Almost 100 women have reported being robbed, assaulted and sexually molested, but the government has warned against putting foreigners and refugees under what they call "blanket suspicion".
Increasingly under pressure over immigration policies, even from within her own political fold, the German Chancellor has been attempting to answer her critics.
Today Angela Merkel said it was important to achieve a "noticeable reduction in the flow of refugees".
She said they had to work on the causes but also look at measures such as improved repatriation of rejected asylum seekers.
Protesters have been condemning violence against women after the New Year's Eve attacks, while police say three suspects have so far been identified.
One victim of the attack told reporters: "All of a sudden these men around us began groping us.
"They touched our behinds and grabbed between our legs. They touched us everywhere. When I turned around one guy grabbed my bag and ripped it off me."
Another victim said: "They felt like they had power and could do anything with the women who were out in the street partying.
"They touched us everywhere. It was so horrible."
As Angela Merkel expressed shock over the attacks, the Mayor of Cologne said there was no reason to believe the perpetrators were refugees.