Africa Eco Race: Ullevalseter returns to winning ways in stage eight
Comments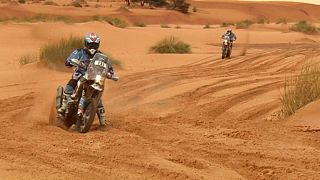 Defending bikes champion Pal Anders Ullevalseter returned to winning ways in the eighth edition of the Africa Eco Race.
The Norwegian KTM rider won stage eight – a 377 km special around Amodjar in Mauritania.
He has now won all but one of the seven stages the bikes have competed in so far this edition.
Britain's Andrew Newland, who ended Ullevalseter's winning run in stage seven, was third on Wednesday while Portuguese rider Jose Sousa completed a KTM clean sweep of the stage eight podium.
Ullevalseter is now almost four hours clear in the overall bike standings.
Mathieu Serradori led a French one two in the car category
Serradori steered his Proto to stage eight honours ahead of compatriot Pascal Thomasse in his Optimus MD.
Kanat Shagirov from Kazakhstan was third on the day but remains at the top of the overall timesheets just under 50 minutes clear of closest challenger Thomasse.
Defending trucks champion Anton Shibalov powered his Kamaz to a fifth stage win this edition.
He leads the category standings over an hour clear of compatriot and Kamaz teammate Sergey Kuprianov.