Saudi-Iranian rift escalates over executed cleric
Comments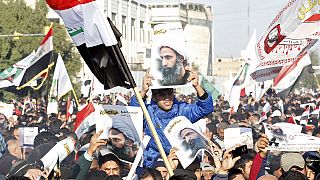 Two days after Sunni Saudi Arabia executed a prominent Shi'ite cleric, thousands have marched in Baghdad and Iraq's southern Shi'ite cities to condemn the move.
Riyadh however is not backing down.
Instead it is stepping up sanctions against regional rival Iran after protesters there stormed the Saudi embassy.
One demonstrator in Baghdad described the execution of Sheikh Nimr al-Nimr as a "decapitation" of human rights and values.
"The youths protesting in Iraq and around the world are demonstrating against human rights abuse, no more, no less," he said.
Shi'ite Iran has accused Saudi Arabia of using the attack on its embassy as an "excuse" to sever diplomatic relations and further increase sectarian tensions in the region.
But as the situation escalates, Saudi Foreign Minister Adel al-Jubeir said that air traffic and commercial relations between the two countries would also be halted and that Saudi citizens would be barred from travelling to the Islamic Republic.
Iranian pilgrims will still be welcome to visit Mecca and Medina, Jubeir said in an interview with Reuters, adding that Iran must behave like "a normal country" instead of "a revolution" and respect international norms before ties could be restored.
Saudi Arabia's civil aviation authority has canceled all flights to and from Iran https://t.co/kGDMnNw9zs

— TIME.com (@TIME) 4 Janvier 2016
The diplomatic ripple effect is growing in the region.
Riyadh's allies Bahrain and Sudan have cut all ties with Iran, and the United Arab Emirates (UAE), home to hundreds of thousands of Iranians, has downgraded its relations.
The crisis stems from Riyadh's execution on Saturday of Sheikh Nimr al Nimr, along with 46 other people on terrorism charges.
The fallout from his death also jeopardises the renewed peace process for Syria where Saudi Arabia and Iran support opposing sides.