Misusing his powers? Obama defends his plans for gun control
Comments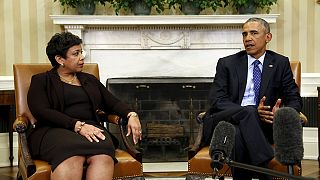 Multiple mass shootings generating outrage across the US
Obama frustrated at Congress' inaction
"Misusing his powers" – Republicans"
Defending his plans
US President Obama to force through gun control measures https://t.co/usgSO6iy92 by AndrewBeatty</a> <a href="https://t.co/wgiupJMPtH">pic.twitter.com/wgiupJMPtH</a></p>&mdash; Agence France-Presse (AFP) January 4, 2016
President Barack Obama has defended his plans to force through controversial executive measures on gun control.
The White House says Obama is due to reveal details of the plans at the White House on Tuesday morning.
Obama insists his aim to tighten gun rules is "well within" his legal authority and consistent with the US constitutional right to bear arms.
Giving his first weekly address of 2016, the US president said he would meet Attorney General Loretta Lynch to discuss what he plans to do.
Obama says he will act on gun control in the coming days. https://t.co/Hl64pHzUTU via shearm</a> and <a href="https://twitter.com/EricLichtblau">EricLichtblaupic.twitter.com/Ftq4DwmZEj

—

NYT

Politics (@nytpolitics) January 4, 2016
Speaking to reporters in the Oval Office, Obama said his administration would unveil the new measures on Tuesday morning
Obama to announce gun control measures 'quite soon': White House https://t.co/opop9CtoxQ

— Reuters Top News (@Reuters) January 4, 2016
His comments are being interpreted as a warning to opponents who are likely to challenge them in court.
Acting unilaterally
Workers return to San Bernardino offices for the first time since massacre https://t.co/EeKIohHljIpic.twitter.com/r8sV3uqVJW

— Yahoo News (@YahooNews) January 4, 2016
Employees return today to the Inland Regional Center in San Bernardino where 14 were killed https://t.co/TCTAfm9e1opic.twitter.com/aXKQ2HwjFT

— Yahoo News (@YahooNews) January 4, 2016
Multiple mass shootings have generated outrage across the United States.
Obama has been frustrated by Congress' inaction on gun control.
He has recently asked his advisers to examine new ways he could use his executive authority to tighten gun laws unilaterally.
In general, the measures are likely to redefine what it means to be a gun dealer and spark increased use of background checks.
Misusing his powers?
Obama says he is confident his new measures are constitutionally sound.
Guns are a potent issue in US politics. The right to bear arms is protected by the US Constitution.
The National Rifle Association, the top US gun rights group, is feared and respected in Washington for its ability to mobilise gun owners.
Congress has not approved any major gun control legislation since the 1990s.
However, there are those who say the US president is playing with political fire by bypassing Congress.
Republicans have accused him of misusing his powers.
Congress, which is controlled by Republicans, rejected Obama's proposals for legislation to tighten gun rules in 2013.
"A dangerous level of executive overreach"
This is a dangerous level of executive overreach, & the country will not stand for it. https://t.co/YgNrG94tjgpic.twitter.com/eMCSSSp3Rh

— Paul Ryan (@SpeakerRyan) January 4, 2016
Republican Speaker of the House of Representatives Paul Ryan condemned Obama's plans on Twitter.