European markets fall after decline in Chinese shares
Comments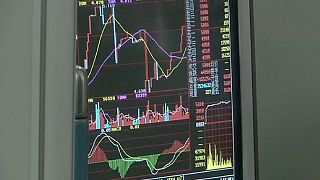 Welcome to 2016 and a rude surprise on the trading floor for those who thought there might be a quiet start to the New Year.
What's been described by one analyst as "Asian chaos" has affected European markets.
Frankfurt dropped almost 4.5 percent. London edged down 2.5. Paris and Madrid fell to almost three percent.
The tremors hit the trading floors from Asia where declines were so steep authorities stopped all mainland trading early.
"Well the DAX opened significantly lower today. Because of the negative data from China. A loss of seven percent and a stop of trading in the stock exchange. That made us think here as well. And hence, the German share index opened much lower," explained Fidel Helmer a markets expert.
China's disappointing manufacturing data with factory activity contracting for a 10th straight month in December and at a faster pace than the previous month was one reason analysts said for the fall.
The coming ban on major shareholders from selling stakes, put in place during the summer stock crash was another reason.
It's the first time the new "circuit breaker" as it's called was used in Asian markets.