Central African Republic polls to proceed despite dangers
Comments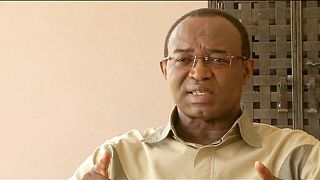 Central African Republic is braced to hold long-postponed presidential and legislative elections this Wednesday. This is in a country carved up by warlords and dangerously unstable after years of sectarian violence between Christians and Muslims.
Campaigning ended on Monday.
There are dozens of presidential candidates, but only a few of them stand out.
Bangui University Law Professor Richard Ouanga considered the prospects: "I'm convinced the Central Africans will live together as they did in the past; only a few are causing disorder. The proof is that last week Muslims marched in protest against Muslim trouble-makers in PK5!"
The troubled PK-5 neighbourhood on the northern outskirts of Bangui is Muslim-populated. Its inhabitants rallied together to prevent extremists from disrupting a referendum two weeks ago, in which voters overwhelmingly supported a new constitution to limit future presidents to two terms and cut the power of the military. Conflict has forced nearly one fifth of the country's five million people to flee their homes in the majority Christian nation.
When mainly Muslim rebels overthrew longtime Christian leader Francois Bozize and seized power in early 2013, Christian militias responded, triggering a cycle of religious killings, France eventually intervened with troops. Self-proclaimed president Michel Djotodia finally resigned in January 2014 and was replaced by Catherine Samba Panza, the first woman at the head of the country. She called for all groups to lay down their weapons. In July last year, the warring parties signed a cease-fire agreement in Congo-Brazzaville. This seeks to make way for a national unity government. But the truce barely held.
Among the top presidential contenders, Anicet-Georges Dologuele, a former prime minister and also a former president of the Central African States Development Bank, is widely known as "Mr Clean". He warns that the fate of the country is brutally precarious.
"You can make all the reconciliation speeches you like, and sign papers, but for as long as the people are not provided enough to eat, the conditions for crisis are still there."
It is not clear when this Wednesday's polling results will be announced. It is feared there could still be violent disturbances, and with so many people displaced from their homes, experts suspect voter turnout could be low.