Italy steps up fight against pollution
Comments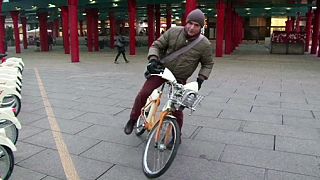 Some of Italy's biggest cities are taking action against rising levels of smog.
Rome and Milan, to name a couple, have put into place traffic restrictions to fight against pollution. Experts say it has hit unhealthy heights as the dry weather means it is not being dispersed.
In Milan, cars, motorcycles and scooters have been banned for six hours a day between December 28 and 30.
In Rome, for nine hours on Monday (December 28), cars with odd-numbered plates were banned and vice versa on Tuesday.
Hybrids and other cars deemed environmentally friendly, are exempt from the new regulations in Rome.
Florence and Naples have also stepped up the fight against pollution.
Italy's environment minister has called
an emergency meeting of local authorities for Wednesday (December 30) to coordinate a strategy to fight the smog.