Storms continue to batter US south
Comments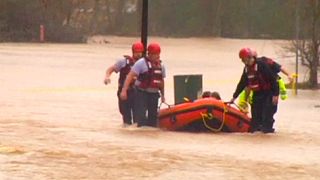 The severe storms pounding much of the US did not let up for Christmas.
Authorities declared a state of emergency in Alabama after heavy rains caused creeks and rivers to overrun their banks, washing away roads.
At least 14 people were killed earlier this week when tornadoes hit Tennessee, Arkansas and Mississippi.
Severe storms and heavy rain are also possible in parts of Texas, Oklahoma, Arkansas and Louisiana.