Falling oil prices wreak havoc in Venezuela
Comments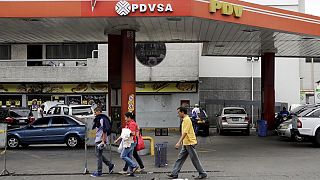 The tumbling oil price has had a catastrophic effect in Venezuela, which has the dubious privilege of having the world's highest inflation.
Everything is so expensive. You go to buy a pair of shoes, anything, and you don't have enough money
The value of oil revenues can be seen in OPEC's figures: they account for roughly 95 percent of export earnings, 45 percent of budget revenues and a quarter of GDP.
For two years people in the South American country have got used to long queues even for basic items in supermarkets.
Even if they find goods available, affording them is another matter.
The IMF predicts this year's inflation rate will hit 159 percent – and next year could top 200.
"You are very limited because everything is so expensive. You go to buy a pair of shoes, anything, and you don't have enough money," said Caracas resident Carlos Gonzalez.
"The money doesn't buy anything. I have a girl with special needs and it's difficult. I just applied for a job so I'll see what I find because honestly my husband's salary, my son's, mine, aren't enough for us. We are in a critical situation," added another resident, Virginia Romero.
Voters punished President Maduro's ruling Socialist Party in elections earlier this month. The opposition won a two-thirds majority in the National Assembly.
The president – who's fought a losing battle to try to get OPEC to cut oil production to push up prices – took the rare step of quoting data recently as he cited inflation and predicted the economy would contract.
Analysts have forecast that reality could get far worse than his estimates of four percent contraction in the economy and 100 percent inflation.
Economic analyst Henkel Garcia said inflation could reach between 230-250 percent, with economic contraction of six to eight percent.