U.S. Democratic candidates clash over national security in third debate
Comments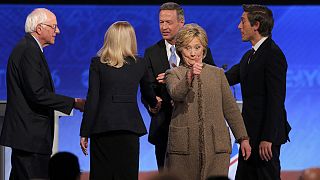 U.S. Democratic presidential candidates clashed over health care, gun control and the fight against ISIL in their third televised debate on Saturday night (December 19).
Front-runner Hillary Clinton slammed Republican candidate Donald Trump and his call to ban Muslims from entering the country. She described the provocative billionaire as ISIL's "best recruiter."
"I worry greatly that the rhetoric coming from the Republicans, particularly Donald Trump, is sending a message to Muslims here in the United States and literally around the world that there is a 'clash of civilizations', that there is some kind of Western plot or even 'war against Islam', which then I believe fans the flames of radicalization," Clinton said.
Her closest challenger, Bernie Sanders, apologized to her and to his own supporters for a campaign data breach. Clinton's campaign has accused Sanders' team of stealing some valuable information used to target voters and anticipate their concerns.
"Not only do I apologize to Secretary Clinton, I hope we can work together on an independent investigation from day one. I want to apologize to my supporters. This is not the type of campaign that we run, and if I find anybody else involved in this they will also be fired," Sanders said.
Didn't spend your Saturday night watching the #DemDebate? Watch the highlights here: https://t.co/nCU6hLNz3p
https://t.co/OItbhrPf4s

— The New York Times (@nytimes) December 20, 2015
Another hot topic was how to prevent Islamists from carrying out "lone wolf" attacks on US soil. Martin O'Malley, trailing in the polls, accused his rivals of being too weak on gun control.
"ISIL videos, ISIL training videos are telling lone wolves the easiest way to buy a combat assault weapon in America is at a gun show, and it's because of the flip-flopping political approach of Washington that both of my two colleagues on this stage have represented there over the last 40 years," he said.
"Whoa, whoa, whoa. Let's calm down a little bit, Martin," Sanders replied.
In the long race to the White House, parties are gearing up for primary elections that will start in February in Iowa.
By the end of July, the Democrats and the Republicans will have chosen their candidates for the presidential election, scheduled for next November.