Turkey deploying 30 percent of army in Syrian border clampdown
Comments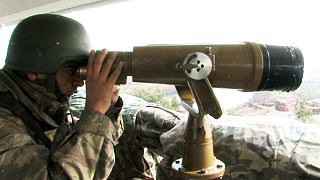 Turkey is tightening security at its border with Syria.
Europe put great pressure on Turkey concerning border security.
A fresco on a barracks building at the Köprübatı checkpoint, which overlooks radical Islamic State movement (ISIL) territory, is emblazoned with the watchwords: "This border is our honour, protected with our hearts and strength."
The First Border Battalion is responsible for fending off infiltrators, smugglers and 'terrorists' along a 6 km stretch. So far this year, they report having captured more than 900 ISIL members, carrying passports from 54 countries, although most of these are Chinese, Russian and Palestinian.
Köprübatı is one of 139 posts along the Syrian border and overall Turkey says it has 30 percent of its land forces deployed for border control.
Local commander Lieutenant Colonel Ahmet Arik told Euronews that his responsibility is to defend the border in accordance with national and international law.
As he task has become more difficult, a modular wall, more than 80 km-long and three metres high is under construction, to separate Turkey's Kilis and Gaziantep provinces from the area of Aleppo in Syria.
"In this way, we hope to increase effective control of refugee flows and to stop any illegal breach of our borders," Colonel Arik said:
The EU has pledged €3bn in financing and promised Ankara political concessions in exchange for stepping up border patrols. That includes the task of controlling the influx of refugees crossing from Syria.
Those gestures have changed the situation on the ground. Professor Mesut Hakkı Caşın of the Özyeğin University in Istanbul observed: "Europe put great pressure on Turkey concerning border security, with allegations that foreign fighters were crossing Turkish territory. Turkey is now sending such fighters back to England, France and Germany."
He adds that the wall also helps manage the flow of refugees so that their numbers can be monitored and their routes influenced.
Another factor in Turkey's increased border vigilance is relations with key NATO ally the US.
Washington has long called for Turkey to do more to cut off supply routes that fuel the conflict in Syria. Ankara is more willing to do so now that it is seeking NATO support in its row with Russia.
American F15s and electronic warfare tools, recently supplemented by German Tornado jets offer ariel protection of the border."
Just a few kilometers away from the Köprübatı border post lies Jarabulus, a Syrian town under ISIL control. Turkish authorities have declared this a "special security" zone.
Our correspondent Bora Bayraktar summed up: "Turkish military forces are trying to strike a balance between preventing ISIL from infiltrating and controlling and managing refugees, given the humanitarian considerations. Security precautions are gaining increasing importance."