UN nuclear watchdog ends probe into Iran's weapons programme
Comments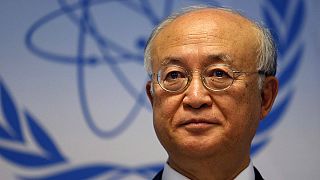 The UN nuclear watchdog, has ended its 12-year investigation into whether Iran once had a secret nuclear weapons programme.
It's a symbolic victory for Tehran, however the IAEA 's inspectors will continue to police the country's nuclear programme.
Despite the implication that Iran was at one time pursuing atomic bomb capability the agency said it prefered not to dwell on the past.
"The agency has no credible indications of activities in Iran relevant to the development of nuclear explosive devices after 2009. Nor has the agency found any credible indications of the diversion of nuclear material in connection with the possible military dimensions to Iran's nuclear programme," said Yukiya Amani, Director General of the IAEA.
The United States, Russia, Britain, France, Germany and China reached a deal with Tehran in July under which sanctions weighing on Iran's economy will be lifted in exchange for restrictions on the Islamic Republic's atomic activities.
Those six powers want to press ahead with implementing the July accord, regarded as a breakthrough after years of increasing confrontation over the issue that raised fears of a wider Middle East war.
The lifting of sanctions, agreed in a July deal with world powers, hinged on the IAEA's findings on the issue.
It means if Iran implements its side of the deal, and once the IAEA has verified that a series of restrictions on Tehran's atomic activities are in place, those sanction will be lifted.
However there has been much comment on social media about the IAEA's decision:
Tonight's WSJ headlines say it all: UN</a> finds Iran violated sanctions, yet IAEA board closes file on &#39;Iran&#39;s past nuclear activities.&#39; Geez.</p>&mdash; Mary Kissel (marykissel) December 15, 2015
Months after the July agreement, IAEA</a> report questions the deal and <a href="https://twitter.com/UN">UN panel says Iran violated missile test ban https://t.co/xzGHK1vvzv

— Donald Norcross (@DonaldNorcross) December 15, 2015
Kerry welcomes IAEA decision to close nuclear arms probe of Iran https://t.co/ExPPBBhp8V

— Reuters Iran (@ReutersIran) December 15, 2015
Kerry welcomes IAEA decision to close nuclear arms probe of Iran https://t.co/ExPPBBhp8V

— Reuters Iran (@ReutersIran) December 15, 2015