The Force Awakens - as do Star Wars cash tills
Comments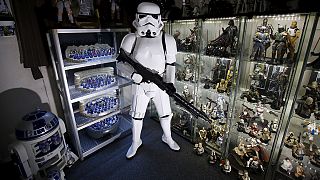 The Force has awakened – and so have the cash registers.
The seventh Star Wars film is tipped to become the year's biggest box office success and a guaranteed cash cow for Disney which bought the rights to the franchise three years ago.
But ticket sales are expected to be dwarfed by revenue from merchandise.
Estimates from Macquarie Research suggest that merchandise receipts may be more than double the value of box office sales in the first year of release – 4.5 billion euros compared to 2.1 billion.
Add together the rest of the intergalactic paraphernalia and it's thought the movie and its spin-offs could rake in well over eight billion euros in the first year of release.
Two Star Wars-themed videogames – Battlefront and Disney's Infinity – are expected to generate 1.1 billion euros, DVDs and downloads 417 million euros, and TV licensing 409 million.
The receipts may not be as infinite as space itself, but they look set to grow.
"The Force Awakens" should kick off a Star Wars trilogy, with Disney promising a new film each year.
A number of stand-alone series linked to the Star Wars universe are also anticipated.
Some analysts, sceptical when Walt Disney forked out $4.1 billion (3.6 billion euros) for Star Wars creator George Lucas' Lucasfilm, now believe it may have got a bargain.
The next few years could spawn a Star Wars bonanza – unless fans fall for franchise fatigue and the Force dies.
In tribute to the #ForceAwakens Premiere, here's my favourite Star Wars product of all time… pic.twitter.com/lahqLT5rgS

— Unnamed Insider (@Unnamedinsider) December 15, 2015