Protests in Italy after savers lose money over banks rescue
Comments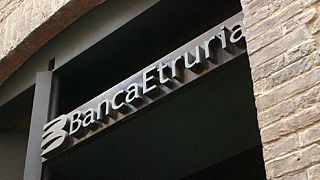 The Italian government faces growing protests over the rescue of four banks which saw thousands of investors lose money.
The Economy Minister Pier Carlo Padoan insists the financial system remains "solid" and the government is "doing everything in its powers" to reinforce the banking sector.
Around 130,000 shareholders and over 10,000 bondholders were hit after the four banks were saved at the end of November.
Some of the banks had been placed under special administration two years ago and there have been questions as to whether customers were warned clearly about the risks of buying the bonds.
The government says it acted before stricter EU rules come into force which it fears may trigger a bank run leading to more losses for savers.
A political scandal has erupted over one of the banks, Banca Etruria, whose vice chairman was the father of a prominent government minister.