Inflation data boosts Federal Reserve rate rise expectations
Comments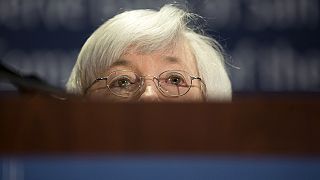 The Federal Reserve's two-day meeting to set interest rates that could see the first rise since before the financial crisis ends on Wednesday.
An announcement is expected later in the day.
The Fed was given more ammunition on Tuesday to raise rates, as figures showed that underlying inflationary pressures rose in November even as consumer prices were kept in check by renewed weakness in oil prices.
The US Labor Department said its so-called core Consumer Price Index, which excludes food and energy, rose 0.2 percent last month – the third straight month to see a rise of the same margin.
Many analysts expect a hike for the first time since June 2006 – so long ago that market reactions from the time are no longer seen as a reliable guide.
Back then the Fed's main policy tool, the Federal Funds Rate – at which banks and credit unions lend to each other – was raised to 5.25 percent.
Recession brought the rate down to zero.
United States Fed Fund Rate pic.twitter.com/QaO6wLn5ll

— Political Line (@PoliticalLine) September 18, 2015
Several factors have helped keep rates rock bottom for almost a decade: among them inflation, consistently below the Fed's two percent target, and there's a feeling that the economy can no longer stand higher rates.
Only now is the economy believed to be strong enough to withstand tighter monetary policy that comes with a modest rise.
"Certainly much anticipated, much hype, the expectations that we have are that they will move away from the zero interest rate policy, that we will see our first rate increase of the cycle," said Eric Wiegand, Senior Portfolio Manager at US bank Wells Fargo.
"We do think that the initial increase will be a quarter of a percent, that it will be the first of a series, however we are not expecting those increases to be consecutive and we expect them to be very data dependent."
The past few years have seen the Fed experiment with novel ways to try to stimulate America's flagging economy.
But raising interest rates is only the first step in a return to normality.
One crucial question is how long a time lapse should be allowed before the next hike.
Some will want to see concrete evidence that inflation is picking up. Others worry the Fed may be too cautious and not do enough to harness the economy.
Good morning. FYI, on why the recent #markets volatility is unlikely to deter a #FederalReserve hike this week. BV</a> <a href="https://t.co/PoTLGj9xPc">https://t.co/PoTLGj9xPc</a></p>&mdash; Mohamed A. El-Erian (elerianm) December 14, 2015