Paris remembers one month after the attacks in the French capital
Comments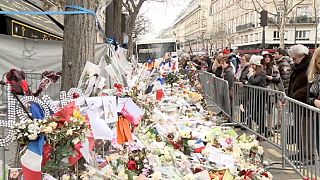 Paris was in sombre mood on a dull December day. It is one month since the City of LIghts suffered its darkest day since World War 2.
Flowers and candles, cards and personal messages covered the pavement outside the Bataclan Theatre. More than a third of 130 who were killed died in the concert hall.
All but one of those directly involved in the attack were killed that day. Salah Abdeslam remains at large. It's believed he is on the way or even already in Syria.
For local residents who pass the scene regularly the pain is still remains deep.
"Everyday I pass by here, I work nearby and it is just too sad, it is too sad. The men who did that are not Muslims, they are false Muslims. I can't say anything more than that, because when I talk about it I want to cry it's too much for me, it affects me too much," said one local.
Yanis Ilopulos tourist from Greece explained the reason behind his visit: "I'm here because I want to try to understand why this has happened. I try to understand why people think that by killing more people they will succeed in peace. It doesn't make sense to me."
The Place de La Republique, a shrine for the victims has become a focal point for mourners who gather here daily.
Under the country's state of emergency police have closed questionable mosques, seized Jihadist propaganda and detained people suspected of aiding the attackers.