Paris climate talks: Fabius announces "ambitious" final draft
Comments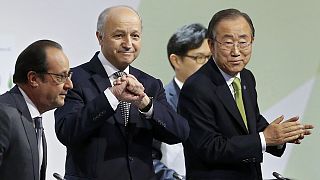 French Foreign Minister Laurent Fabius has presented a landmark climate deal in Paris.
The accord, which he described as "historic and ambitious" was hammered out after two weeks of talks.
Negotiators are set to reconvene on Saturday afternoon to approve the agreement.
In talks that lasted into the early hours of Saturday morning, officials appeared to have resolved the final sticking points.
Fabius highlighted the key areas of the deal: a more ambitious goal for limiting the rise in global temperatures to less than two degrees Celsius; a 100 billion dollar floor for funding developing nations beyond 2020; and a five-year cycle for reviewing national pledges to take action on greenhouse gas emissions.
Both the UN Secretary General Ban-Ki Moon and the French President Francois Hollande echoed the calls by Fabius for the nearly 200 nations to support the deal.
The Paris pact comes six years after the previous climate summit in Copenhagen ended in failure.