COP21 deal won't happen before Saturday, says French minister
Comments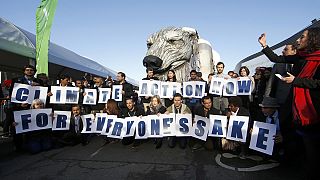 A climate change deal won't be agreed at the global COP21 meeting in Paris until at least Saturday, according to the French minister in charge of the talks.
A draft of the accord was produced on Thursday but Laurent Fabius, president of the meeting and French foreign minister, said on Friday morning that another 24 hours of talks would be needed to confirm it.
The meeting of 200 nations was intended to conclude on Friday but Fabius said he was optimistic an extra day would see a positive outcome.
"Things are going in the right direction," said Fabius.
Negotiators have been working on the latest draft since Thursday in a bid to resolve sticking points
It seems governments have made progress on some issues, but there's still disagreement on others – like the monitoring of emission cuts.
Unlike previous UN climate conferences, Fabius as head of the talks, will call time as soon as he believes a "consensus" has been reached on how to stop the world from warming up.
Controlling greenhouse gas emissions
Experts widely agree that global warming of more than 2°C would have seriously impact the planet, increasing extreme climate events.