FBI informed California shooter "planned attack in 2012"
Comments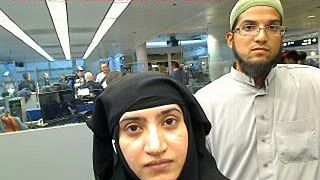 Investigators trying to find out the truth about the California couple who went on a ISIL-inspired shooting rampage in San Bernardino have revealed the man, Syed Farook, had planned an attack in 2012 but pulled out.
A former neighbour has told the FBI of Syed's plan, allegedly with an unidentified accomplice, without giving any further details. It implies he was radicalised long before meeting his Pakistani-born wife in Saudi Arabia.
"They were radicalized before they started courting or dating each other online. And online as early as the end of 2013 they were talking about jihad and martyrdom before they became engaged, and married and lived together in the United States," said FBI Director James Comey.
Families of the 14 victims have been taken to the scene of the shooting, which it appears the couple planned and practised for for over a year. It is the deadliest Muslim terrorist attack on America since 9-11.