Suspended UEFA president Platini attends CAS hearing
Comments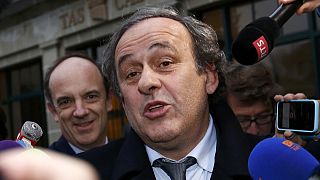 The suspended president of European football's governing body (UEFA) Michel Platini arrived at the Court of Arbitration for Sport (CAS) on Tuesday for the start of a hearing to decide whether or not to freeze his 90-day ban from football pending a full ethics investigation.
The former France international, who was mobbed by the media on his arrival, is hoping the CAS will suspend his ban this week so that he can resume campaigning for the FIFA presidency ahead of the February 26 election.
A verdict is expected before Friday and if in Platini's favour he could also attend Saturday's draw for the 2016 European Championships.
Just before entering the court building in Lausanne a rather upbeat Platini pledged to ''tell the truth and nothing but the truth.''
The case centres on a 2011 "disloyal payment'' of 1.8 million euros Platini received from incumbant FIFA president Sepp Blatter for advisory work carried out nine years earlier.
Platini and Blatter, who is also suspended for 90 days, are now facing possible life bans for corruption when they appear before the Fifa ethics committee in Zurich next week with a verdict expected before Christmas.
Both men deny any wrongdoing and claim they had a verbal contract for a backdated payment.
On Sunday a French newspaper published a memo dating back to 1998 that includes a payment agreement between Platini and Fifa.
Platini's lawyer Thomas Clay has called the 23-page document "important evidence" and believes it could help clear the suspended Uefa president.