Energy markets fall as reports say OPEC to maintain output policy
Comments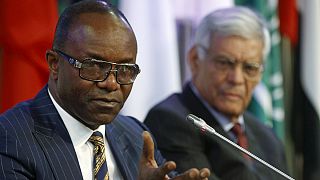 Energy markets fell following unconfirmed reports that OPEC has kept its policy of pumping near-record volumes of oil.
Anonymous sources quoted by Reuters and Bloomberg say collective output is to be raised by one and a half million barrels a day to 31.5 million.
If so, the hike would come despite plunging prices, the objections of poorer members, doing nothing to address the problem of overproduction.
The murmurs from OPEC sent Brent oil futures falling by two percent to $43 (39.5 euros) a barrel.
Oil prices plunge after #OPEC is said to raise its output target from 30m bpd to 31.5m bpd. pic.twitter.com/QdkiFRBUZL

— Paul Wallace (@_PaulWallace) December 4, 2015
Saudi Arabia and its Gulf allies have been sticking to their strategy of defending market share – hoping that lower prices may ultimately drive higher cost producers such as US shale firms out of the market.
The Saudis have previously said they may consider a cut in output – only if OPEC members Iran and Iraq cooperate, and non-members such as Russia join in too.