ECB extends stimulus plan to boost eurozone economy
Comments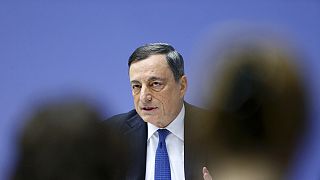 The European Central Bank has announced fresh stimulus measures in a bid to boost inflation and the eurozone's recovery.
The ECB is to extend its quantitative easing programme. The bank's President Mario Draghi told a news conference that its asset buying programme would continue at least until the end of March 2017, or beyond if necessary, at the current rate of 60 billion euros a month.
The scheme is to be enlarged to include the purchase of municipal and regional bonds.
Earlier the bank announced that the main interest rates would remain unchanged – at 0.05 percent for main refinancing operations, and 0.3 percent on the marginal lending facility.
But the main bank deposit rate has been cut further into negative territory – from -0.2 to -0.3 percent, charging banks more for parking cash with the central bank in a bid to boost lending.
On Wednesday expectations of fresh stimulus were heightened further when new data showed that inflation had slowed.
Some analysts had been expecting more measures as inflation remains stubbornly below the ECB's target of just under two percent.
The euro has weakened nearly seven percent against the dollar since the bank's last meeting in October.
Draghi acknowledged there were continued downside risks to the inflation outlook, and called on eurozone member states to do more to improve the economy.
Draghi: First, we decided to lower the interest rate on the deposit facility by 10 basis points to -0.30%

—

ECB

(@ecb) December 3, 2015
Draghi: Second, we decided to extend the asset purchase programme until the end of March 2017, or beyond, if necessary

—

ECB

(@ecb) December 3, 2015
Draghi: Third, we decided to reinvest the principal payments on the securities purchased under the APP as they mature, as long as necessary

—

ECB

(@ecb) December 3, 2015
Draghi: Fourth, we decided to include, in the PSPP, debt instruments issued by regional and local governments located in the euro area

—

ECB

(@ecb) December 3, 2015
Draghi: Fifth, we will continue conducting the MROs and 3-month LTROs as fixed rate procedures with full allotment as long as necessary

—

ECB

(@ecb) December 3, 2015