Brazil thrown even further off-balance by pressure to oust Rousseff
Comments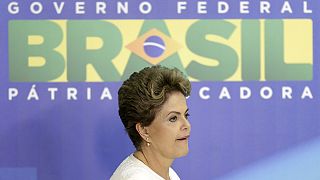 The bid to impeach Brazilian President Dilma Rousseff is expected to slow efforts to reboot Latin America's biggest economy.
I received with indignity the decision of the president of the lower house of Congress to proceed with the impeachment.
The acceptance by the Speaker of the lower parliamentary Chamber of Deputies, Eduardo Cunha, of an opposition request to start moves to unseat Rousseff may divert attention from bribery charges he is facing.
But in the meantime, Brazil is in its deepest recession in 25 years, and floundering.
Rousseff's reaction was indignation, she said.
She reeled off several accusations already publicly levelled at Cunha: "There is no suspicion hanging over me (!) for any misuse of public money. I do not have any offshore bank accounts. I have no hidden assets."
Her detractors, however, say her government presented economic figures in a dishonestly flattering light during her re-election campaign last year.
The lower house ethics committee is expected to open a probe against Cunha—from the centrist Brazilian Democratic Movement Party—next week, with the backing of Rousseff's Workers' Party.
Brazil's political establishment is already close to paralysis over a huge corruption scandal at state-run oil company Petrobras. Rousseff is not under scrutiny although a lot happened when she was chair of the board. Her opponents insist she should be held accountable.
Recent opinion polls show that most Brazilians would like to see her impeached, although some analysts give her a better than 50-50 chance of serving out her second term in office.