Eurozone unemployment hits near four-year low of 10.7 percent
Comments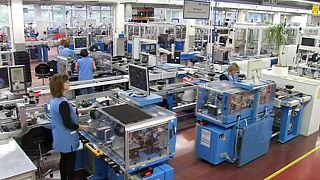 Unemployment in the eurozone fell to its lowest level in October for nearly four years according to official data from the European Union's statistics agency Eurostat.
The figure of 10.7 percent – down 0.1 percent on September – hasn't been seen since January 2012.
However it remains more than in other developed economies – and youth unemployment is far higher, sometimes catastrophically so.
The number of people out of work in the eurozone is still 17.24 million – and the rate is more than twice the five percent jobless level in the US.
Unemployment fell in the eurozone's larger countries such as Germany, Italy and Spain – but rose in France.
Lowest unemployment rate since Jan 2012 in euro area, Sept 2009 in EU #Eurostathttps://t.co/LPH5op3q0epic.twitter.com/w1qNgStGom

— EU_Eurostat (@EU_Eurostat) 1 Décembre 2015
There are still strong differences across the 19 countries: Greece has the highest level at almost 25 percent; Germany the lowest rate at 4.5 percent (the seasonally adjusted figure for November), the lowest since reunification in 1990.
"Employment has further grown considerably. Company demand for new employees increased again. So the labour market once again developed well and it is prepared for upcoming challenges," said Frank-Juergen Weise, head of Germany's Federal Employment Agency.
The German data came after a period of summer blues when slowdowns in China and other emerging markets hit exports.
The jobless figures for the eurozone were accompanied by an increase in factory production according to the Markit Economics report, boosted by new export business.
But the rise in output was less than economists had expected.
According to the industry survey, the recovery may still need further stimulus from the European Central Bank to keep the positive momentum going.
Broad-based #eurozone manufacturing recovery gathers pace in November. #PMI at 52.8. https://t.co/GffGI5aZM6pic.twitter.com/8oYQDsl8rK

— Markit Economics (@MarkitEconomics) 1 Décembre 2015