Gold loses lustre as prices fall to a six-year low
Comments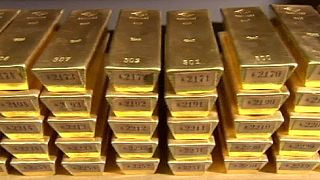 All that glitters is not gold and gold is not so shiny at the moment as it falls to its lowest price in almost six years.

Gold prices falls B50 to B18,000 https://t.co/ZG0DcH4p9bpic.twitter.com/K8YCcNd3Sx

— Bangkok Post (@BangkokPostNews) November 30, 2015
Gold it appears is no longer a safe haven for investors.
The recent stock market sell-off and the Paris attacks have done nothing to halt its six week decline.

Gold posted its lowest close since February 2010 https://t.co/fTNWPtrhvDpic.twitter.com/Djj8qH3qdS

— MarketWatch (@MarketWatch) November 23, 2015
A stronger dollar is not helping gold prices making the yellow metal much more expensive for foreign holders.
Add to that the prospect of an imminent US interest rate hike.