China's yuan looks set to join the currency jet set
Comments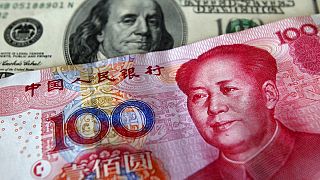 China is looking to have the yuan added to the IMF special basket of currencies to make to it more attractive to investors.

China's yuan is joining the IMF's elite club of currencies. Why does it matter? https://t.co/z7DYHCAuwzpic.twitter.com/ZHEgIUh3jZ

— Telegraph News (@TelegraphNews) November 30, 2015
The stamp of approval will put the yuan on a par with the US dollar and the IMF look set to accept Beijing's wishes.
The IMF is due to vote later.

How does the rise of China's yuan's threaten the global pre-eminence of the American dollar? https://t.co/isJehL1xdzpic.twitter.com/sb82d3kF6Q

— The Economist (@TheEconomist) November 30, 2015
If the yuan gets the nod it will join the dollar, yen, pound and euro in the basket of reserve currencies.
China hopes the move will restore global confidence in its economy after the recent stock market turmoil.