China gets daily reminders of the pressing need for a cleaner environment
Comments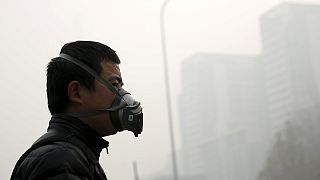 Sunrise in Beijing, just like many other sunrises, was hidden behind a wall of smog. This is why the climate change summit is so vital, as the cost of pollution is now starting to drag developing countries back and threaten their development.
The Chinese capital is on its highest smog alert right now, which means people are told to stay at home, and production slumps. China is finding that as it races into the 21st century
the cost of environmental damage is outweighing the profits polluting industries make.
"This sort of weather, you can see that all of Beijing has been enveloped in smog… and with every breath, every morning you get up, your throat will feel particularly uncomfortable, somewhat prickly, and your breathing is greatly affected," said one young man.
It is the same story in Shanghai. With water and soil quality also impaired in many places, China, despite being a massive polluter, knows it has a problem and is making huge efforts.
"It definitely causes problems with the lungs. When the smog is bad, my daughter will cough and doesn't breathe well," said a young mother.
From India to Brazil to Indonesia or Nigeria, the cost of runaway development is being realised and calculated. In the end it is economic imperatives, not moral ones, that may drive this summit forward.