WMO warns 2015 the hottest year on record
Comments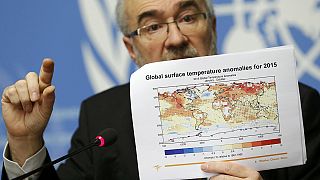 This year will be the hottest on record and next year could be even hotter, according to a new report.
The World Meteorological Organisation says a combination of the El Niño weather pattern and human behaviour is causing temperatures to rise.
Decisions taken at a summit of world leaders in Paris starting on Monday could keep global temperature rises within 2 degrees Celsius (3.6 Fahrenheit) over pre-industrial times, a target set down in 2010 to try to prevent dangerous climate change.
"Yes, it's still possible to keep to the 2 degree target but the more we wait for action the more difficult it will be," WMO director-general Michel Jarraud told a news conference.
A preliminary estimate based on data from January to October showed the global average surface temperature for 2015 was around 0.73C above the 1961-1990 average of 14C and around 1C above the pre-industrial 1880-1899 period, the WMO said.
Environmental campaign group Greenpeace agrees with the findings and is warning that tough decisions must be made in Paris.
Li Yan is head of Greenpeace's climate and energy campaign:
"Glacial melting on the Qinghai-Tibetan plateau should be a climate change alarm bell for global heads of state, warning them to reach a strong agreement at the Paris climate summit, and to push for a global change to clean energy."
"The Qinghai-Tibetan plateau's water tower is the source of many of Asia's most important rivers. Now if estimated sources of drinking water dry up even more quickly over the next few decades, the lives of tens of thousands of people living in towns and cities downstream as well as society and the economy will face a serious threat," she added.
Global temperatures have been unprecedented over the last five years with several continents breaking temperature records by large margins.