Canada reduces refugee intake to 10,000 by the year's end
Comments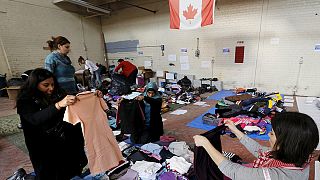 Canada is to reduce the number of Syrian refugees allowed into the country to 10,000 by the year's end.
Originally Ottawa planned to accept 25,000.

Canada to take in 10,000 Syrian refugees by year end & another 15,000 by end of February pic.twitter.com/i0NwpfjNSH

— TIMES NOW (@TimesNow) November 25, 2015
The government say they are still on course to take in a further 15,000 refugees, but the facilities are not yet in place to cope.

#SyrianRefugees arriving in Canada will face a five-step process https://t.co/c7l4LzIBLFpic.twitter.com/6WocaAcjqg

— TorontoStar (@TorontoStar) November 25, 2015
They hope to have everything ready by February.
Any refugees earmarked to move to Canada will be screened before arrival.
Ralph Goodale is Canada's public safety minister: "So before anyone gets on a plane to come to Canada, the security screening will be completed, fully completed overseas. If there is any doubt about an application or an interview or any of the data, the file will simply be put aside and held for further consideration at a later time."
The recently elected prime minister, Justin Trudeau wants Canadians not to lose their willingness to accept the asylum seekers: "We wanted to make sure it was done absolutely right so as to ensure Canadians who have been incredibly open and enthusiastic about it remain as positive about welcoming these families," he said.
Canada is to spend close to €500m over six years to fly in refugees currently based in Jordan, Turkey and Syria.