Syrian conflict dominates talks between Russia and Iran in Tehran
Comments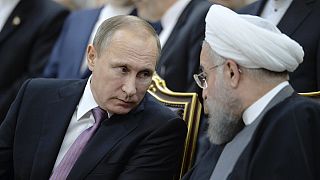 Russian President Vladimir Putin and Iran's leadership have called for closer ties at a meeting on the sidelines of the Gas Exporting Countries Forum Summit in Tehran.(GECF)
In his first visit to Iran for eight years, Putin and Supreme Leader Ayatollah Ali Khamenei also emphasised their opposition to any "external attempts" to bring regime change in Syria.
Both Moscow and Tehran are backing Syria's "President Bashar al Assad"http://news.yahoo.com/russias-putin-arrives-tehran-100552859.html in contrast to Western powers, Turkey and Gulf Arab states.
Later in talks with President Hassan Rouhani, Putin defended his policy of airstrikes against what he called 'Syrian terrorist targets'.
"I judge the actions of our pilots (in Syria) quite positively. Today I have informed our Iranian friends on these issues. We have exchanged (views on the) situation in Syria. I'd like to say one more time, there is no other way to reach a long-term settlement to the problems (in Syria) except through political talks," said President Putin.
On Monday Russia 's defence ministry released images purporting to show its pilots bombing ISIL held oil refineries in eastern Syria.
Meanwhile Syria's main opposition, the Syrian National Coalition (SNC) has criticised Russia's air campaign saying the strikes do not go beyond six percent of its total targets in Syria. Instead it accused Russia of targeting moderate rebels and civilians and prioritising its support to Syrian President Bashar al-Assad's army.
Russia launched its air campaign on September 30 purporting to strike at terrorist targets as ISIL made gains in the country. However its campaign appears to have hit rebel positions allowing Syria's army to regain ground.
Iran for its part provides the Assad regime military assistance, including sending "advisors" and "volunteers" in the field.
At a meeting in Vienna in mid-November, about 20 powers including Russia, the US and Iran set themselves the ambitious target of achieving peace talks by January 1, but they remain divided over the fate of Bashar al-Assad.
Since the Syrian conflict began in 2011 around 250,000 people have been killed.