German business morale rises despite global uncertainty
Comments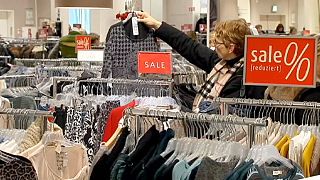 German business morale has risen to its highest level for nearly 18 months, despite the slowdown in China, the Volkswagen scandal and more recently the Islamist attacks in Paris.
Official figures have shown stronger private consumption and higher state spending on refugees have helped the economy to grow.
Now IFO's business climate index for November, based on a survey of thousands of firms, has jumped from 108.2 in October to 109.0.
"Many (people) expected the IFO index to drop, especially after the attacks in Paris. But our figures show that the responses were no different. That means the trends remained the same and the index increased. The market uncertainty apparently has no effect on the German economy: it appears to be unimpressed and wants to invest even more. And German consumption has been doing very well for months now," said IFO economist Klaus Wohlrabe.
Record high employment, rising wages and stable prices have helped boost consumer spending in Germany. Cheaper fuel is also putting money in people's pockets.
Exports are expected to continue performing strongly, even in the car industry despite the VW emissions scandal.
This year German companies have shrugged off fading demand from China and Russia by exporting to Britain and America instead.