Anti-ISIL coalition courts Russia to destroy ISIL
Comments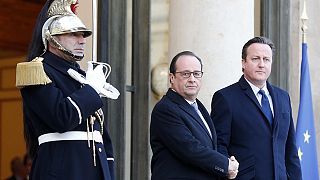 Diplomacy has increasingly been mixing with war measures as allies redouble efforts to destroy the radical Islamic State movement ISIL — talking while bombing.
Just days ago, the UN Security Council called for "all necessary measures", in a French-drafted resolution. Russia had said it would even join the Western-led anti-ISIL coalition if Syrian sovereignty were respected.
Moscow is tightening cooperation with the US-led air strike force against what David Cameron called "this evil death cult". The 13-country coalition has been hammering away for one year in Iraq and Syria.
When François Hollande called for Russia to come aboard four days after the Nov. 13th terrorist attacks on Paris, Vladimir Putin reacted supportively. He ordered the command of the cruiser Moskva, in the Mediterranean, with the aircraft carrier Charles de Gaulle approaching: "You need to establish direct contact with the French and work with them as allies."
In the sky above Syria, the French, Americans and Russians have been coordinating to keep their warplanes out of each other's way since Russia started pouring on the bombs less than two months ago, even though Moscow was not aiming mainly at ISIL;
It was providing air support so that Bashar al-Assad's troops on the ground could advance against opposition rebels. When it concluded that an ISIL bomb brought down a Russian airliner in the Sinai, Moscow picked new targets.
In the meantime, it maintains an alliance with Tehran, Russia supporting Assad's army, Iran the Hezbollah militia backing him. Putin being 'in' with the Middle East's leading Shi'ite powers Damascus, Tehran and Baghdad caught the US off-guard. At the G20 summit in Turkey, Putin was on every Western leader's 'must-see' list, especially Barack Obama's.
However, as to the Russians' political pliability, William Taylor, Vice President of the Washington, DC-based US Institute of Peace said: "They are not yet part of the solution in Syria. As long as they continue to support Bashar al-Assad in Syria, they will continue to make the refugee problem worse and they will continue to hurt the effort to fight [ISIL]."
American-Russian military coordination in Syria yes, but political coordination is still some way down a diplomatic path. Talks in Vienna produced an 18-month plan the US, Russia and other countries agreed to, for a new Syrian government based on democratic elections.
After longstanding Western-led demands that Assad — with so much blood on his hands — must go, the common enemy ISIL may have unwittingly become the instrument of a compromise.