Pfizer secures Allergan takeover deal to create new drugs giant
Comments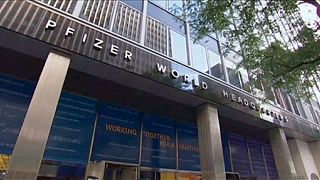 A potent mix of Viagra and Botox is on the cards: their makers have agreed the healthcare sector's biggest ever takeover deal.
The transaction to combine the two manufacturers has been valued at around $160 billion (150 billion euros).
Last month it was reported that Pfizer and Allergan were in talks over a merger.
Pfizer to combine with Allergan to create global biopharma leader: https://t.co/UqX48HMST3

— Pfizer Inc. (@pfizer) 23 Novembre 2015
Viagra's manufacturer, the New York-based Pfizer will keep its name – and crucially, may be able to escape the US corporate tax rate of 35 percent – one of the highest in the world.
Instead, by shifting its headquarters to Dublin under a so-called "inversion" deal, the home of Botox maker Allergan, it may see its tax liability plunge.
Ireland's business tax rate is just 12 and a half percent.
The companies say they expect the deal to be completed in the second half of 2016.