Just 118 years to go to close the gender gap
Comments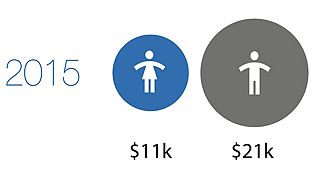 It is easy for news to get buried at times like this. Last week the World Economic Forum published an important paper – its Global Gender Gap Report which takes a ten year perspective on the issue. The news is not terribly encouraging. There are an additional quarter of a million women in the global workforce since 2006 and we women now earn what men did a decade ago. At the current rate it will take 118 years to close this gap completely!
The report examines whether progress has been made across four pillars: economy, politics, health and education. No one country has closed its overall gender gap however Nordic countries are the most gender equal societies in the world. Iceland has kept its number one spot, and Norway, Finland, and Sweden hold, 2nd, 3rd and 4th places respectively.
Education is a critical issue when it comes to achieving gender parity – while 25 countries have closed that gap completely – overall we are 5% away from achieving that equality. Interestingly however there appears to be no link between getting more women into education and their earning potential, particularly in skilled or leadership roles.
In terms of health the figures are the closest to parity at 96% – 40 countries have closed this gap entirely but despite this encouraging increase, overall the Health and Survival gender gap has slightly widened compared to 2006.
In the world of politics there has been the most progress – currently 50% of countries have had a female head of state. However, only 19% of parliamentarians and 18% of ministers are female.
The slow rate of improvement does not come as a great surprise. I was quite shocked to hear a male colleague relate that one of our senior editor jobs – which is held by a woman – would be impossible for her if she had a family. Of course other senior editors, male, have families but comments regarding fatherhood and work are extremely rare. This is explains why Facebook CEO Mark Zuckerberg made the headlines for announcing – drumroll – that he was taking 2 months paternity leave for the birth of his daughter.