Joie de Vivre: Terror attacks won't stop Parisians enjoying their city
Comments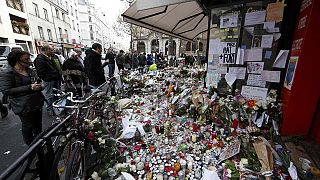 Paris will never forget the attacks that stunned the world.
We must keep living, partying
But as tributes are paid to the 129 people whose lives were cut short, a spirit of resistance has set in.
Parisians are determined to keep enjoying their city and its restaurants, bars and concert halls, defying the Islamist suicide bombers and gunmen who slaughtered others for doing just that.
The social media hashtag #JeSuisEnTerrasse – meaning 'I'm out on a terrace' – is intended to show they are not scared.
#Jesuisenterrasse How Parisians are defying terrorism. Check out the blog by @AnsoBraendlinhttps://t.co/IHbLDFzD2Lpic.twitter.com/Tw1bqheYMS

— dwnews (@dwnews) November 17, 2015
The fear factor though is present for some whose lives have been turned upside down.
"We are scared now when we go out,' said student Dounia Zari, after laying flowers in front of the Casa Nostra restaurant, where five people were killed.
"I have come here now with my friend and we are looking back all the time. When we see tinted windows we are afraid. We are living in fear. If I could stay at home, I would."
Students at the Université Paris Diderot are struck by the fact that many of the victims were so young – embodying the joie de vivre that the French capital is so famous for.
"We are not changing," said Jeanne Fournier.
"We must keep living, partying."
That feeling is shared by many…Life goes on.