G20 pledges to cooperate as ISIL threatens further attacks
Comments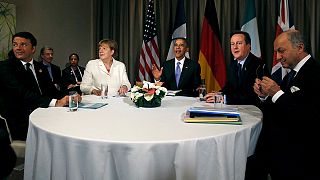 G20 leaders have promised to cooperate over border security, airline safety, sharing intelligence on suspected terrorists and freezing their assets.
World leaders vow to step up anti-terror efforts after Paris attacks https://t.co/Ikakr86eYIpic.twitter.com/nIXde9JbEj

—

TIME

.com (@TIME) November 16, 2015
The closing statement from the summit stressed that terrorism should not be associated with a specific religion, nationality or ethnicity.
Obama says "ISIS is the face of evil", addresses Paris attacks at end of G20 summit https://t.co/l6MGr0cwHTpic.twitter.com/WnIX36joop

—

NBC

Los Angeles (@NBCLA) November 16, 2015
US President Barack Obama says he is committed to a joint strategy to annihilate Islamic State, but will not authorise US ground troops.
"ISIL is the face of evil. There have been a few who suggested that we should put large numbers of US troops on the ground. And it is not just my view, but the view of my closest military and civilian advisers that that would be a mistake."
President Putin goes from pariah to player at G20 summit https://t.co/WOuVFurwZ0pic.twitter.com/iso1iMhRD3

— Bloomberg Business (@business) November 16, 2015
Russian leader Vladimir Putin says cutting off funding for groups like IS is the key.
"Channels of finance for terrorist activity must be cut off. I've given examples based on information we have on IS financing by individuals from various countries. This financing, as we found out, comes from 40 countries, including some in the G20."
#G20 leaders signed the "Family Photo" taken at #G20AntalyaSummit. pic.twitter.com/7Jzqi9JLgN

— Public Diplomacy, TR (@TROfficeofPD) November 16, 2015
ISIL

: Washington and Rome are next
ISIS threatens in new video: After Paris, Washington is next https://t.co/T8bupq8AWB#MiddleEastpic.twitter.com/bJT7BiGFxt

— The Jerusalem Post (@Jerusalem_Post) November 16, 2015
Undeterred, the so-called Islamic State has warned that countries taking part in air strikes against Syria face the same fate as France.
Posted on the usual site used by the group, it is claimed the video is by militants in the Iraqi province of Salahuddine, north of Baghdad.